While everyone is stressing out over the Rockets or the Grizzlies, the Clippers have quietly began their slide into the abyss. While it's hard to pinpoint exactly where the problem lies, we kind of have to discuss it at this point. Especially after the abysmal slide that this team has committed when faced with the chance to stop GSW's historic run.
So let's talk about the Clippers? Where do we look for answers and will we be able to even find them.
If nothing else, this article is going to turn into a very opportune moment for me to bitch about GM/Head Coach mechanic. At best, such practice has never proven to work in the League, despite how often Stan Van Gundy tries to merge his teams into some wall-building monster. It's just not a very good mechanic. Best teams work when the GM and the Coach are in sync, but are free to focus on their own priorities, much like Buford and Pop have done for over a decade. It's too much to navigate keeping a group of grown man-children motivated for 82+ games without having to take on the scrutiny of salary caps, player movement and free agent scouting. So from the start I viewed the Doc as GM experiment as doomed.
The bigger problem is it seems that Coach Doc and GM Doc don't really speak. Ironically, I don't really think they've ever been in the same room together. The only similarity I can see is the strong fatherly instincts both seem to possess. If nothing else, Coach Doc owed GM Doc a conversation this summer.
GM Doc: Hey, so I wanted to talk about that playoff meltdown. What happened?
Coach Doc: You know, we've pretty much been riding the same six guys through the season and into the playoffs. We should probably expand.
GM Doc: I hear ya. What do you have in mind?
Coach Doc: Not sure, do we have any more children we can add to the roster?
GM Doc: I don't think so, but how about this. We surrender all Center depth.
Coach Doc: Okay.
GM Doc: So far so good? Then, let's get rid of our only + perimeter defender outside of Chris Paul. Make a solid trade for a 38 year old vet who has been stapled to the floor so we can roll him out for like five a game, and, you're still with me? Get two questionable attitude guys who have been on the soggy wet side of washed up and ask them to be valuable cogs. Sound good?
Coach Doc: Are you sure we don't have any more children we can trade for?
I mean, it would at least get them thinking.
GM Doc
The problem here is just a lot of mismanagement of assets. They blew their only trade chip last year on Austin Rivers when they needed perimeter defending and some sort of scoring to take the load off Crawford as the only bench player with any semblance of basketball skills and financial flexibility.
Eventually, they doubled up on that by somehow downgrading on Spencer Hawes (I see you Cole Aldrich and your whopping three games played this season), not re-upping on more defense on the wing and taking risks at inflated prices all over the place. Smith was a bargain, but Lance is making a whopping 9mil a year for a stability risk. On top of that, you re-upped all that money on DeAndre counting for him to take a step up. Essentially, GM doc locked himself into contracts and his team into a very strict "win now" window with no ability to flex this roster out in the next year or two. Basically, he put a lot of trust into Coach Doc.
The problem with these roster risks is that you take too many of them, not all of them will work out. Naturally, they're risks because MOST of them won't work out, so stacking your team with about five risky moves is the opposite of hedging your bets. Josh Smith doesn't get enough time to be a factor on this team that could desperately use his post play (even though he still believes he's a guard). Lance has never snapped out of his funk and his one-year in Indiana now seems like a distant day-dream on whatever drugs they brew in the Great White Lick. And DeAndre never turned the corner the way he said he wanted to during negotiations. He still switches off too often and looks like he would rather be anywhere else during tough games.
All of that brings us back to Austin Rivers who has been their best trade acquisition through all of this, and that's saying something. Mind you, it's saying nothing good, but it's definitely saying something. At best, this roster finds it's groove, at worst it will blow away the best 1-4 pairing since Stockton and Malone. Whichever one it will be depends solely on…
Coach Doc
For the past two years I have belonged to the "Doc is not good of a coach" school of thought. Yes, he is a good motivator, but people still give him too much credit for a team that was coached 25% by Kevin Garnett at his maniacal best and 25% by Rajon Rondo at his Connect Four playing worst.
Doc the Coach has been drawing blanks on both playmaking and line-up management for a while now. First, he insists to keep riding continuity of his six man line-up, which is proving unfruitful. Tim Duncan seems to have given Jamal Crawford false coordinates to the fountain of youth and the latter has seemingly fallen of a cliff, the one he isn't in any hurry to climb up. Even so, Doc has been riding Jamal to the tune of around 40 minutes per game when it matters.
No one else has simply earned enough trust to see significant minutes on that floor and Paul Pierce is basically a cardboard cut-out of himself who gets rolled out for about five minutes each games to stand around and look menacing. The problem is, none of them really fit into the roster the way that they're supposed to.
Defensively, despite having DJ, Blake and Paul this team is struggling to plug line-up holes, ranking bottom 10 per 100 possessions. What's more, a team with DeAndre Jordan is 27th overall in rebounding, giving up over 12 offensive rebounds per game, which results in a lot of second points. That comes down to motivation, and DeAndre seems to have none of it. Having made a big deal about being ready for a bigger role, the man seems reluctant to accept it and sometimes I question whether nor not he just thinks this is another fantastic Funny or Die video he's in.
This is compounded by Doc's horrific game/player management. Austing Rivers has seen a whopping amount of minutes for someone of his skill level, especially in important games. Against the Warriors Doc was insistent on keeping Paul on the bench when Curry was starting to heat up. I mean, I get it. Every time Paul defends Curry it's like a Viners' convention, but he would do a better job than Austin. What's more, he would help the offence steady.
Against the Raptors, Doc also rode Austin out, albeit this time during the Clippers offensive surge. Still, one has to think that bringing in one of the best PGs in the game mid run would also help your team make that final run towards a lead or at least a single-digit deficit. Bottom line is, Doc needs to stop trading Austin PT for house chores.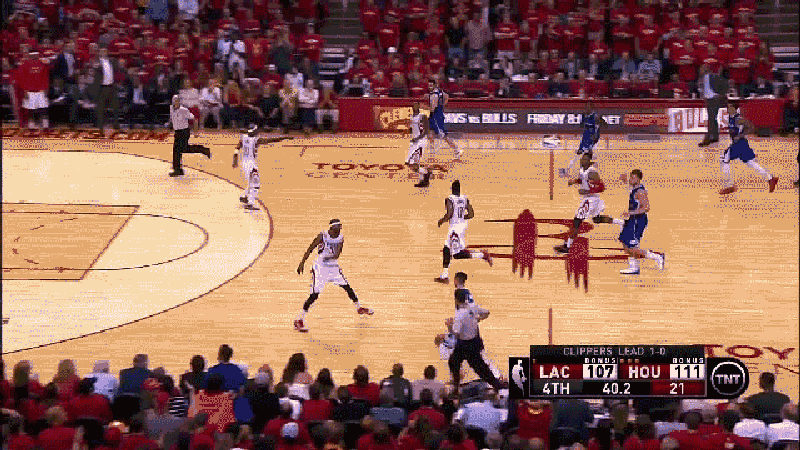 With this also comes a lack of understanding about when to make in-game adjustments or even just let our guys catch a breath. Doc seems to believe that his guys can ride it out, like he has some sort of magic Jedi mind control up his sleeve. The truth is, Chris Paul is the only person who has enough mental stability to handle point swings and changes of momentum without time-outs. The rest of this team has a combined mental capacity of a 15-year-old, 12 if you factor in Lance. This is not the 08 Celtics who can simply ride it out on the strength of their mental game, this team, especially as thin as it is, needs constant change up.
The problem is, Doc the Coach is increasingly incapable or unwilling, which would be worse, to make the necessary adjustments in both his coaching style and the way he runs this team to put it back into it's prime "win-now" window position.
He should maybe talk to GM Doc about trading for more family members.
How ya feeling Chris?